Super League: Why are football's biggest clubs starting a new tournament?on April 20, 2021 at 11:24 am
Europe's biggest teams have suffered during the Covid pandemic and say they want financial stability.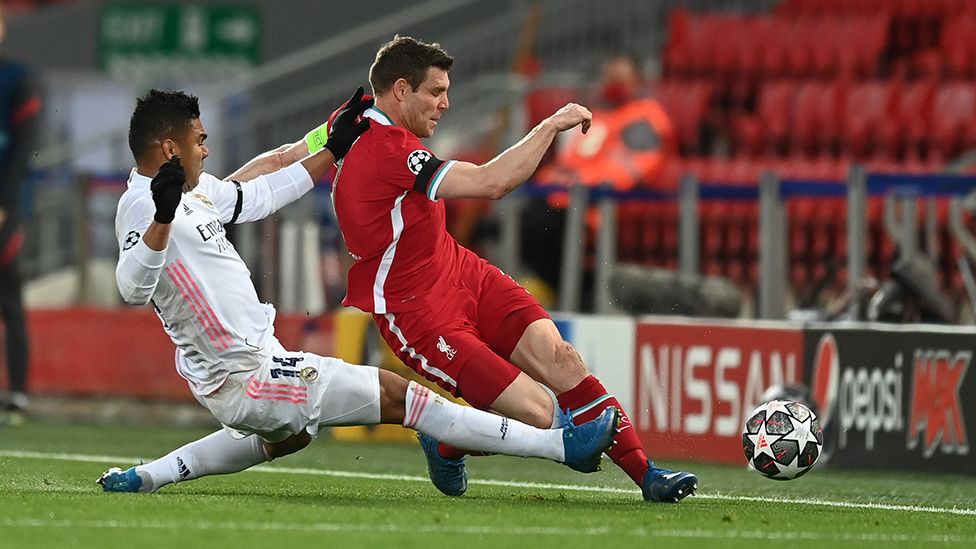 There's been a massive backlash against plans by some of the world's biggest football clubs to start a new European Super League (ESL).
The clubs involved say the ESL will benefit football as a whole, but critics say it's driven by greed.
Twelve clubs have signed up – six of them from the English Premier League.
Arsenal, Chelsea, Liverpool, Manchester City, Manchester United and Tottenham, have joined AC Milan, Atletico Madrid, Barcelona, Inter Milan, Juventus and Real Madrid.
The clubs want to carry on playing in their respective national leagues, but would also play each other in a new midweek competition.
The new league would rival the existing Champions League, one of the biggest club tournaments in football.
The plan is for the ESL to have 20 teams. Of these, the 12 founding members – plus three yet to join – would be permanent and never face relegation.
Five other sides would qualify from across Europe each year.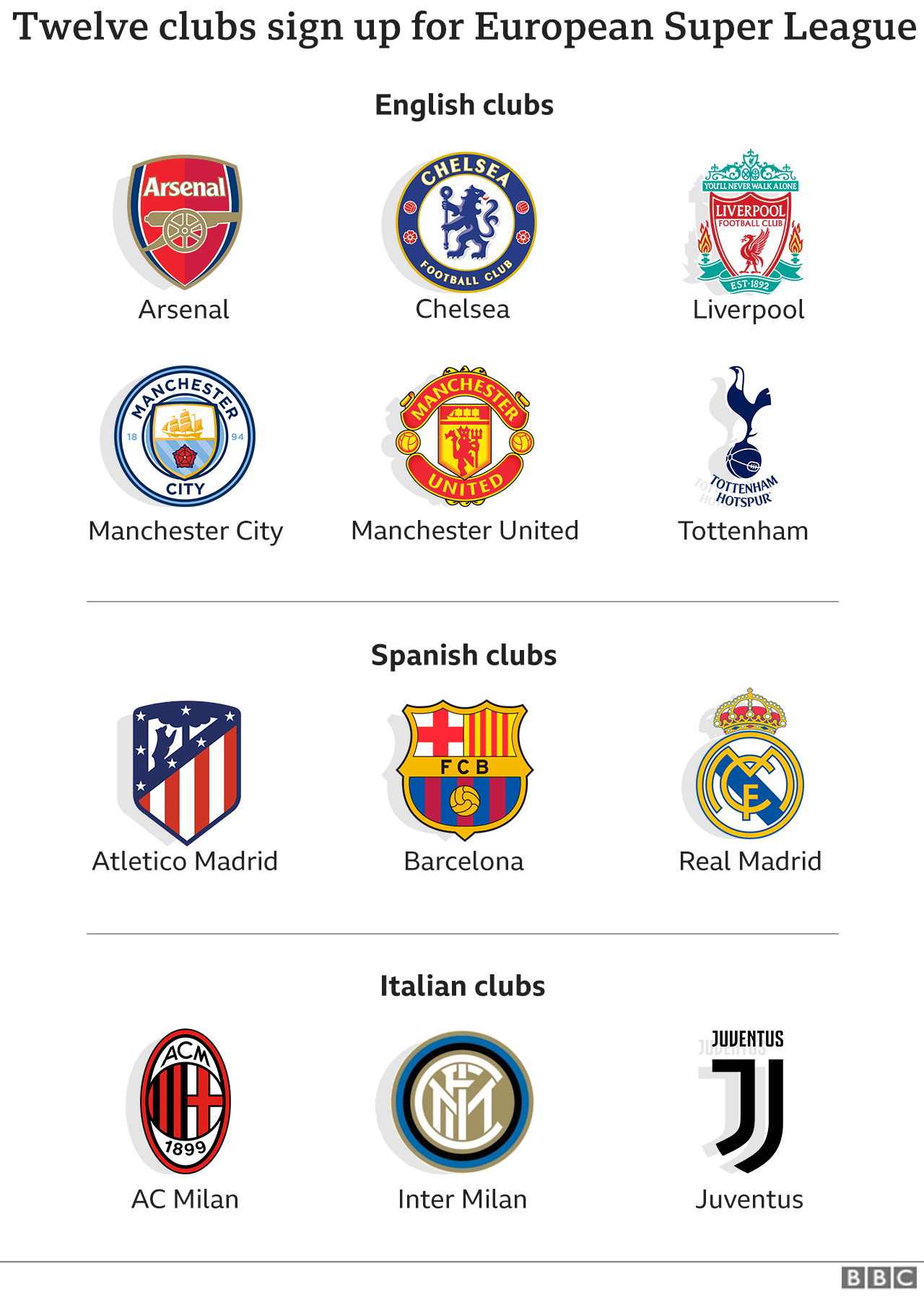 With 15 teams in the ESL not facing qualification or relegation, one of the main criticisms is that it would be unfair and uncompetitive.
For instance, Arsenal, which has not qualified for the Champions League since the 2016-17 season, would be guaranteed a place, regardless of how they perform in the domestic league.
However, a future winner of the Premier League would not necessarily qualify for the ESL if it were not one of the permanent members.
If this were the case, that team would miss out on the millions of pounds in revenue which the Champions League currently generates in ticket sales and TV rights.
One of the main movers behind the ESL, Real Madrid president Florentino Perez, claims that it will "save football" at a time when young people are "no longer interested" because of "a lot of poor quality games".
The founding clubs have been promised a share of a €3.5bn (£3bn) grant provided by the investment bank JP Morgan.
Big clubs also have superstar players with multi-million pound salaries to be paid.
If they can guarantee they're going to be taking part in a major European football competition every year, they will automatically become more valuable and stable businesses.
However, critics say that removing the element of competition for places devalues the game itself.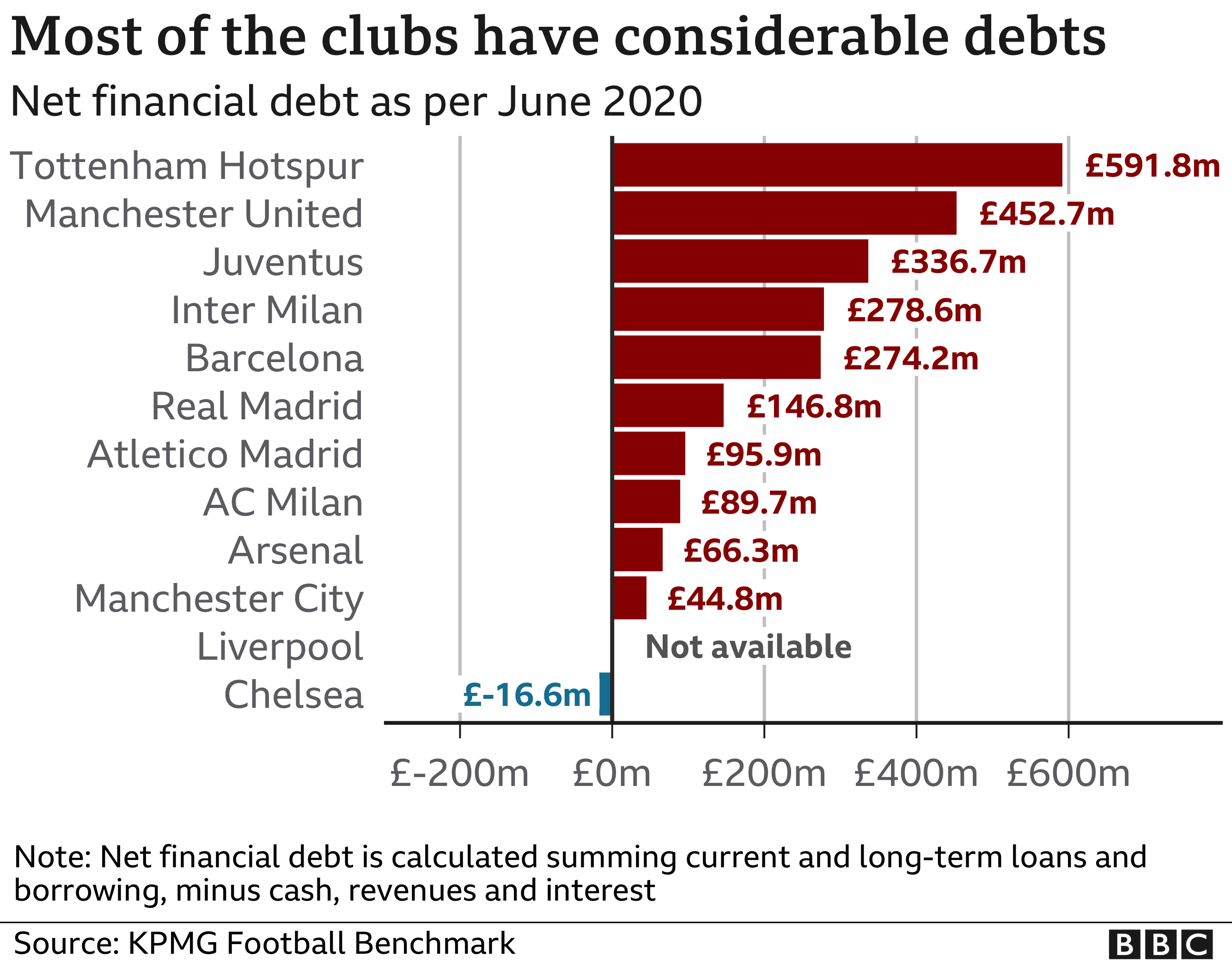 Under the proposals, the ESL would start in August each year, with plans to launch "as soon as practicable".
The 20-team league would be split into two groups of 10, playing each other home and away.
The top three in each group would qualify for the quarter-finals, with the fourth and fifth-placed teams competing in a two-legged play-off for the two remaining spots.
From then on, it would have the same two-leg knockout format used in the Champions League, with a final in May at a neutral venue.
The president of Uefa (the Union of European Football Associations), says he wants the 12 clubs banned from European competition at the earliest possible opportunity, and their players prevented from appearing at major tournaments.
Aleksander Ceferin did not rule out this happening in Champions League or Europa League games this season.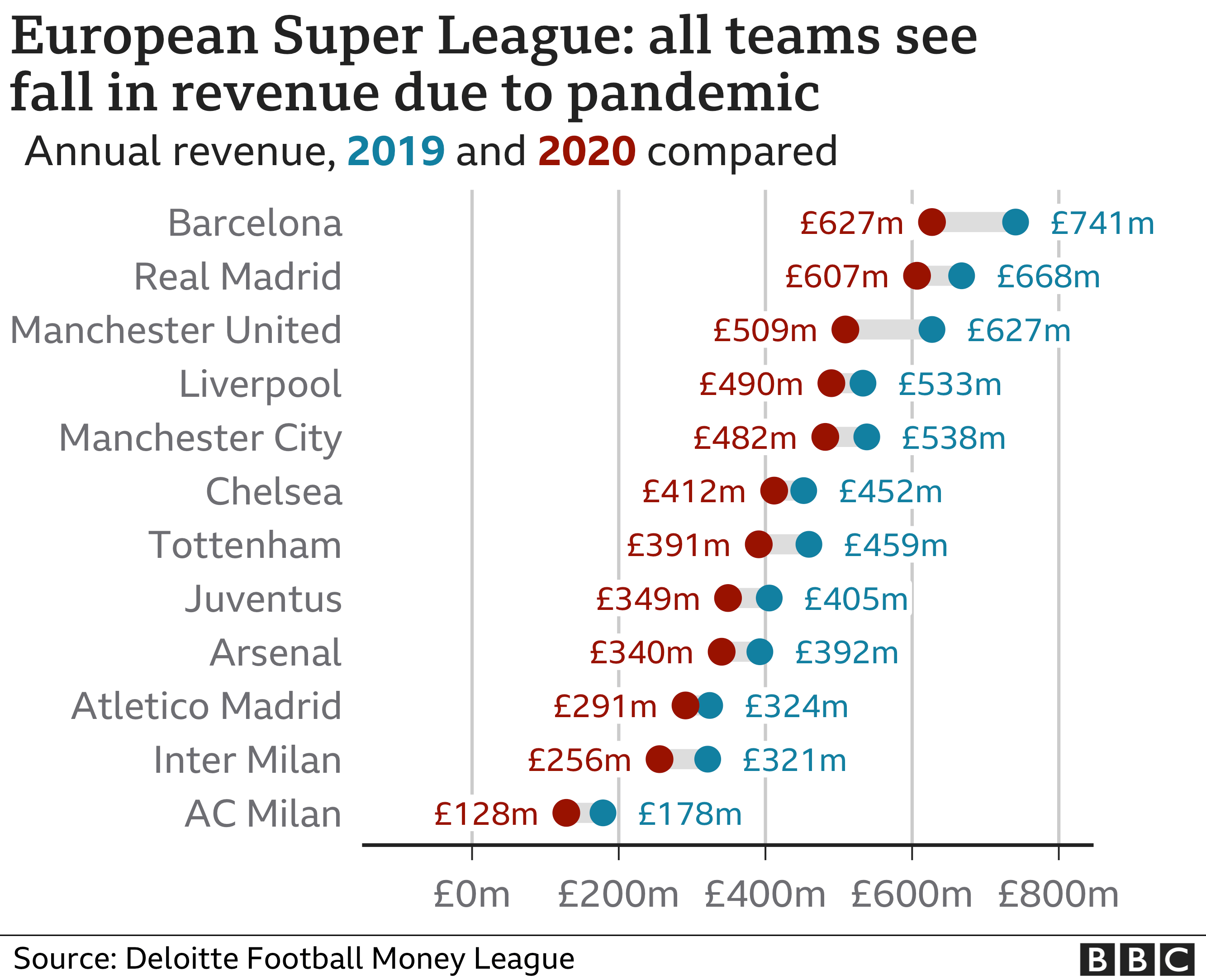 The government has made it clear that it opposes the Super League.
Writing in The Sun, Prime Minister Boris Johnson said he was "horrified" at the plans, adding: "I'm going to do everything I can to give this ludicrous plan a straight red."
It's not yet clear what the government could do to prevent English clubs taking part although there have been suggestions that work visas could be restricted for footballers who play in the proposed ESL.
Other options being talked about include a windfall tax on clubs, and reforms to give fans much greater power on football club boards.
Much could depend on which other teams sign up.
Bayern Munich, Borussia Dortmund and Paris St Germain – the biggest clubs in Germany and France – are not supporting the breakaway league.
Meanwhile, the ESL is trying to block any sanctions Uefa or Fifa may try to enforce over the formation of the league.