Owen Paterson: Minister Stephen Barclay expresses regret over voteon November 8, 2021 at 7:05 pm
Stephen Barclay says government-backed efforts to change MP standard rules were a "mistake".
Minister Stephen Barclay has expressed his "regret" over the "mistake" the government made with the vote on Owen Paterson's conduct last week.
Government-backed plans to review MP standard rules, after Mr Paterson was found to have broken lobbying rules, were withdrawn following a backlash.
Mr Paterson has since resigned his North Shropshire seat in Parliament.
Labour leader Sir Keir Starmer accused the government of "giving a green light to corruption".
No 10 said the prime minister could not attend an emergency debate on the subject due to a "long-standing commitment" to visit a hospital in the north-east of England, but Sir Keir accused him of "running scared".
Liberal Democrat Wendy Chamberlain – who requested the debate – also expressed disappointment that Mr Johnson had not attended, saying: "You can't help but feel that he thinks the rules don't apply to him."
Meanwhile both the SNP and Plaid Cymru have called for a police investigation into the process of appointing Conservatives to the House of Lords.
The SNP's Commons leader Peter Wishart told MPs: "the price to get into the House of Lords has gone up from £1m from New Labour to £3m from the Conservatives."
He also urged Labour to "stop putting people in that place… we just need you guys as the opposition party to say you will abolish it".
The Conservative have denied any link between party donations and the nominations to sit in the Lords.
At the beginning of the Commons debate – which lasted three hours – Commons Speaker Sir Lindsay Hoyle said it was essential to "sort out the mess we're in".
He said any review of the process for investigating MPs had to be done on a cross-party basis.
Following her report, the Commons Standards Committee recommended Mr Paterson should be suspended for 30 days.
However, Mr Paterson denied breaking the rules and said the investigation had been unfair.
The government supported a proposal to block his suspension until a review of the investigation system had been carried out.
Following an outcry from opposition parties and some Conservative MPs, the government later U-turned on the plan.
Opening his speech in the Commons, Mr Barclay told MPs: "I would like first and foremost to express my regret, and that of my ministerial colleagues, over the mistake made last week."
He said there had been concerns about the investigations system but said that had been "conflated" with Mr Paterson's case.
However, despite calls from some MPs, Mr Barclay said the government would not hold a second vote on the suspension of Mr Paterson, arguing such a vote was unnecessary given his resignation from the House of Commons.
Asked about the row earlier, Prime Minister Boris Johnson did not apologise for ordering his MPs to block Mr Paterson's suspension, insisting the government had been trying to reform the standards system.
He said it was "very important" to get any changes "right" and added a hope that Sir Lindsay would help set up talks between the parties on improving the process.
Speaking later in the House of Commons, Sir Lindsay did not announce separate talks but instead said he would wait until the Committee on Standards had finished their own review.
During the debate, some Conservative MPs criticised their own government, with former chief whip Mark Harper urging Mr Johnson to apologise.
Aaron Bell – who was elected to the Newcastle-under-Lyme seat in 2019 – voted against the government last week, but said fellow MPs who had followed the party line were "beating themselves up about that".
"Loyalty to one's party is an admirable trait… but the reality is that my friends should not have been put in such an invidious position," he added.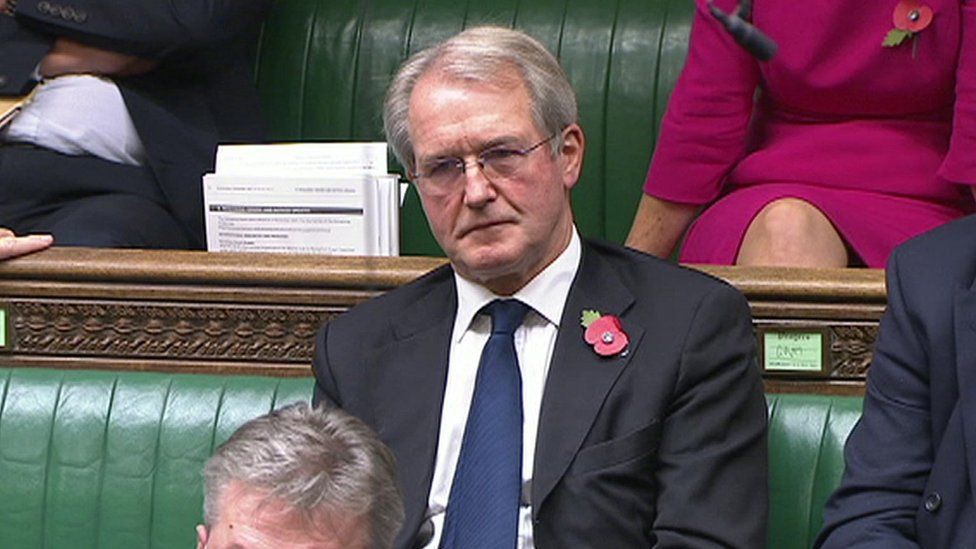 Owen Paterson had been a paid consultant for clinical diagnostics company Randox since 2015 and to meat distributor Lynn's Country Foods since 2016, earning a total of £100,000 a year on top of his MP's salary.
MPs are allowed to have these jobs, but are not allowed to be paid advocates – using their influence in Whitehall for the company's gain.
Making three approaches to the Food Standards Agency relating to Randox and the testing of antibiotics in milk
Making seven approaches to the Food Standards Agency relating to Lynn's Country Foods
Making four approaches to ministers at the Department for International Development relating to Randox and blood testing technology.
Mr Paterson was also found to have broken conduct rules by:
Failing to declare his interest as a paid consultant to Lynn's Country Foods in four emails to officials at the Food Standards Agency
Using his parliamentary office on 16 occasions for business meetings with his clients
And in sending two letters relating to his business interests, on House of Commons headed notepaper.