Covid: Plan B vote to be split into three amid Tory rebellionon December 11, 2021 at 8:15 pm
The measures for England are still likely to pass as Labour has committed to backing them.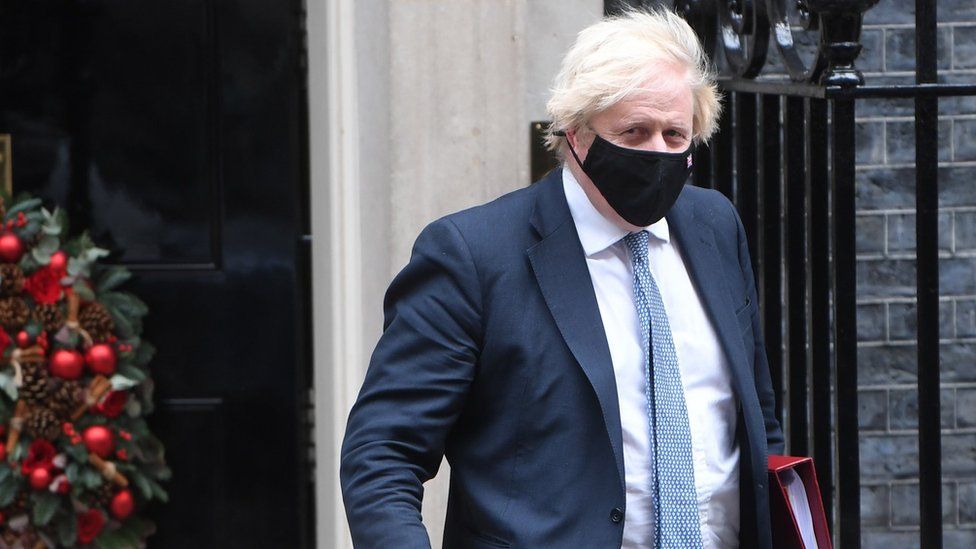 A vote to pass new Covid measures into law this week is expected to be split, as Boris Johnson faces a rebellion from about 60 Conservative MPs.
Government sources suggested the introduction of Plan B measures for England will be divided into three separate votes on Tuesday.
There will be a distinct vote for plans to introduce Covid passes in some venues, opposed by some Tories.
But Plan B is expected to become law as Labour is backing the government.
The BBC estimates that about 60 Tory MPs have said they will oppose the introduction of Covid passes – requiring proof of double jab or negative test – to access certain venues like nightclubs.
If replicated in the Commons on Tuesday, it would be the largest rebellion of his MPs that Mr Johnson has seen yet.
As a result, it is expected MPs will be asked to vote on this separately to other parts of the plan.
There is likely to be one vote on the new facemask rules.
Another vote on whether a daily negative test result should allow those exposed to a positive case to avoid self-isolation.
And the third on Covid status certification, described by some as vaccine passports, but which can be obtained through a negative lateral flow test.
In addition there is also expected to be a vote this week on mandatory vaccination for frontline NHS staff in England.
Despite having previously been against it, the BBC understands that Labour will back the government's plan to make jabs compulsory.
As recently as October, the Labour leader Sir Keir Starmer said he was opposed to the idea but it is understood the party has changed its mind after briefings from government scientific advisers.
That vote could come before Parliament as soon as Tuesday.
Although Plan B has not yet passed, there is already talk that the government might need to bring further measures in England as Omicron cases rise.
On Saturday, a further 633 Omicron cases were reported – although the real number is estimated to be much higher. Overall, a further 54,073 daily cases were recorded across the UK.
It also said the number of deaths could range from 25,000 to 75,000 between now and April.